2022 Nissan Pathfinder, Part Deux: Our Second Take on Nissan's Latest Family Hauler | News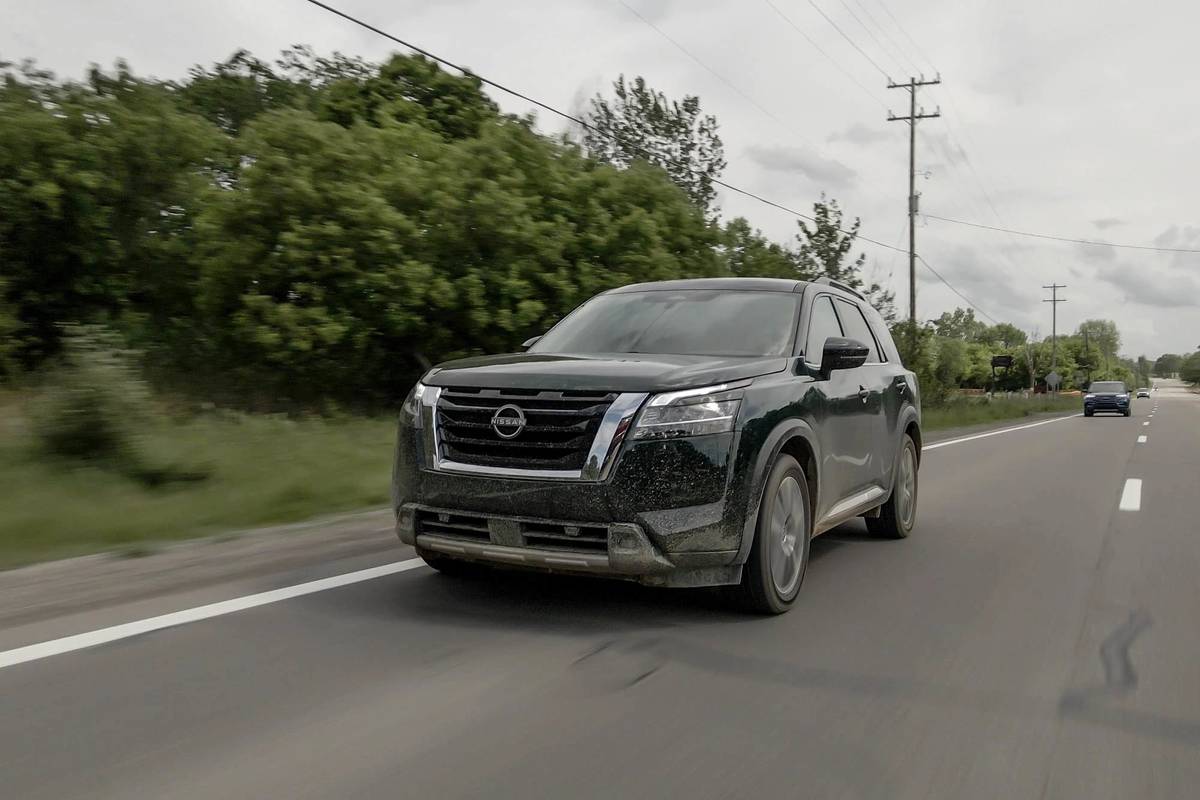 2022 Nissan Pathfinder | Cars.com photo by Leslie Cunningham
The redesigned 2022 Nissan Pathfinder is a curious family SUV, much improved in some respects but head-scratching in others. In June 2021, Cars.com reviewer Aaron Bragman tested the redesigned three-row hauler in southeast Michigan; he summed it up as reasonably room- and tech-laden, with adequate, if plodding, drivability.
Related: 2022 Nissan Pathfinder Review: Outdoor Adventure Wagon Rebooted
Two months later, the rest of our editors have spent considerable time driving the Pathfinder's well-equipped Platinum trim level for two weeks, but also sampling a mid-level Pathfinder SL at an area media event. (The 2022 Pathfinder's four trim levels, in ascending order, are S, SV, SL and Platinum.) Here's what stood out to me and three colleagues: Editor-in-Chief Jenni Newman, News Editor Brian Normile and Executive Editor Joe Wiesenfelder.
Suspension Tuning: Going Rogue?
Nissan has perplexed us of late, keeping the redesigned Sentra a comfort-oriented compact sedan, while the overhauled Rogue SUV became a firmer, sportier choice. The Pathfinder seems to have gone the Rogue's route. The suspension allows a degree of impact harshness that's out of character for a car-based family SUV. It's busy, too, with underlying turbulence that creeps up on ordinary suburban streets. I judged the Rogue's chassis a little more tied down — the Pathfinder concedes a little extra movement after each impact — but Wiesenfelder didn't go so far.
"I agree with you that they 'went Rogue,' firmer than necessary," he said. "But I do think the greater wheelbase and track mitigate it."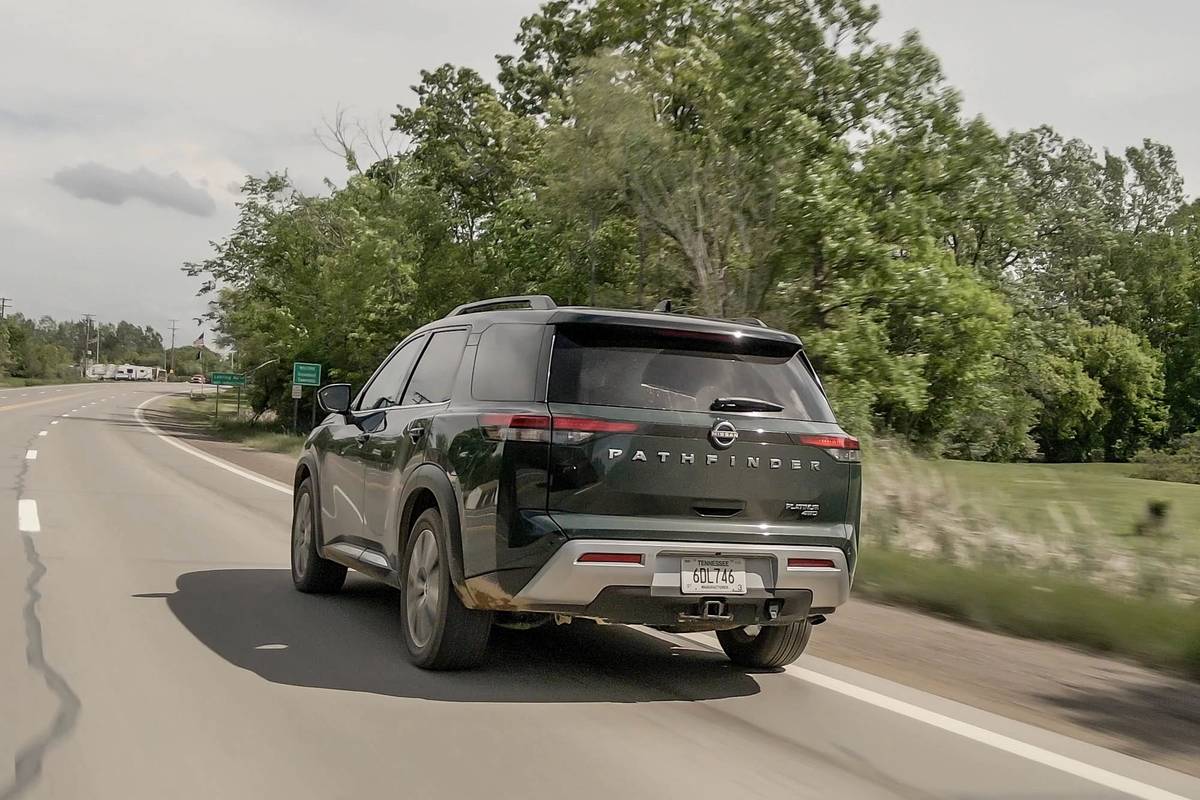 2022 Nissan Pathfinder | Cars.com photo by Leslie Cunningham
Newman said she didn't find ride harshness to be much of an issue, and that's despite the 20-inch wheels on our Platinum-level test car. Lower trims have 18s and higher-profile tires; that might improve ride comfort a tad, though it's worth noting our impressions are generally calibrated against other well-equipped test cars, which also have large wheels and low-profile tires.
Normile took particular issue with the new Pathfinder in light of its predecessor, an SUV known for its comfortable ride before Nissan decided to firm things up in the second half of the life cycle. With the redesign, the pendulum didn't swing much, if at all, the other way.
"The previous-generation Pathfinder was soft in every way: cushy ride, at least early on, with a mushy transmission and nary a sharp angle to be found," Normile said. "The redesigned Pathfinder's ride is much firmer, probably firmer than it needs to be — a trend we've noticed lately that doesn't seem to have impacted consumer habits, at least not yet."
Interior: Big Improvements, Still Not Super Big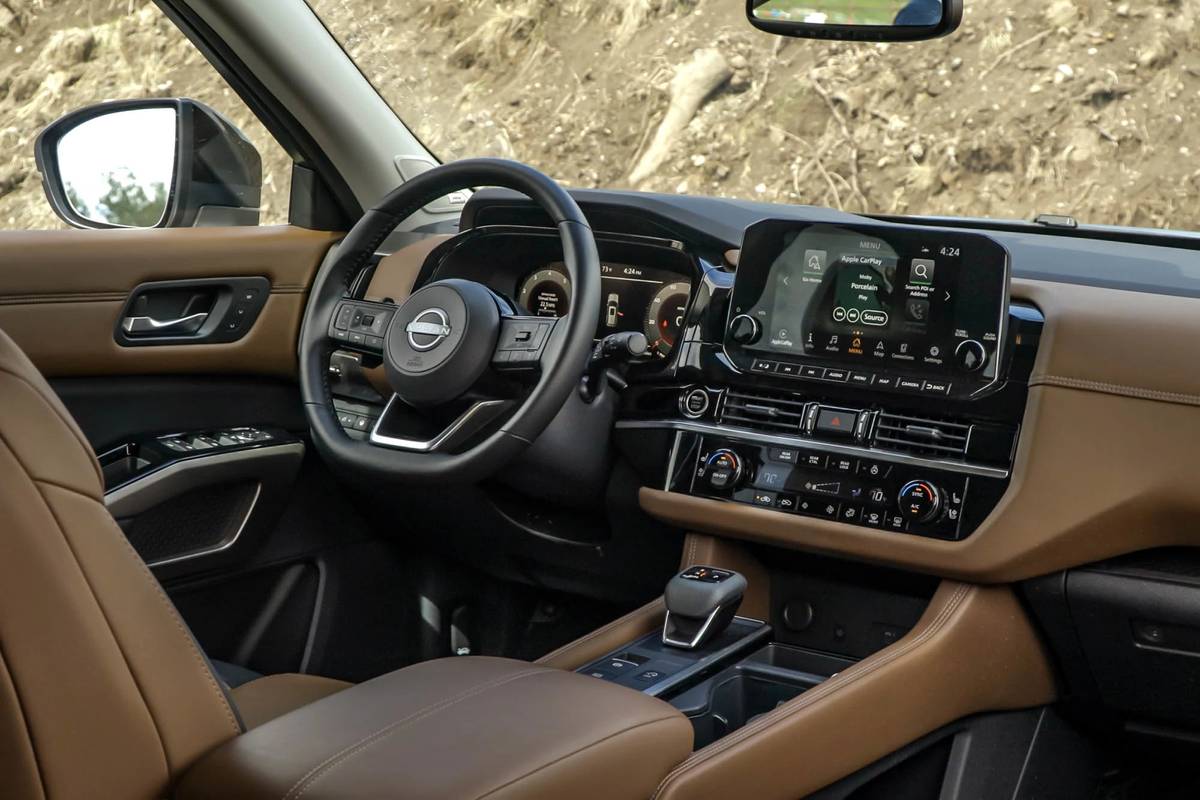 2022 Nissan Pathfinder | Cars.com photo by Leslie Cunningham
From knee to arm level, materials in the Pathfinder's first two rows swap the outgoing generation's pervasive hard-touch plastics for generous padding, much of it with attractive double stitching. The electronic gear selector and drive-mode dial both felt a bit loose in our test car, but other controls seemed ready for prime time. The cabin's silver accents have an attractive brushed finish, and it's nice to see the quality extend beyond just the Platinum. The SL grade we sampled had basic leather upholstery instead of the Platinum's semi-aniline cowhide, but materials were consistent otherwise — a step in the right direction amid the cost-cutting among lower trim levels in too many cars these days.
"The interior, basically 'the Rogue but bigger,' is well laid out and modern," Normile said. And Newman called our Platinum test car "beyond Nissan — you could close your eyes and think you're in an Infiniti or something from another luxury brand."
Bragman's review lauded the Pathfinder's third row as now a "usable size for adults," with easy entry, thanks to one-touch buttons to slide the second-row seats for walk-in access. Newman agreed, but she chided how Nissan's wayback arrangements accommodate Cars.com's car seats.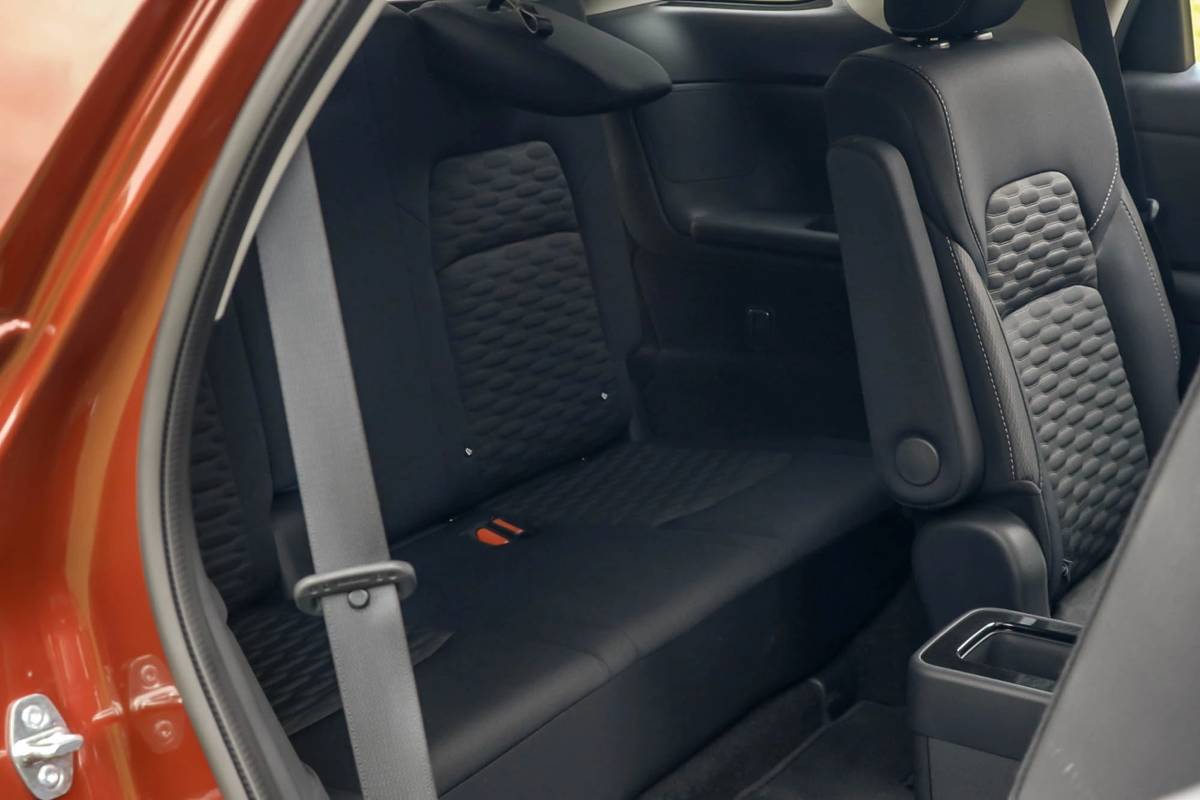 2022 Nissan Pathfinder | Cars.com photo by Leslie Cunningham
The third-row bench "is a little short, the back is a little too upright and the head restraint is so big that it's pushing things forward," Newman said. "With our forward-facing convertible seat, part of the base was overhanging the Pathfinder's bottom cushion. That's acceptable, but what's less acceptable is that none of the seatback touched the back of our forward-facing car seats. It should, but the Pathfinder's forward-tipped head restraint raises it off the seat."
Cars.com's independent accounting of cargo space found volume behind the third row an underwhelming 8.41 cubic feet. That's in the neighborhood of as-tested volume for the current Toyota Highlander (8.64), but it trails the Mazda CX-9 (9.76), Jeep Grand Cherokee L (10.87), Hyundai Palisade (11.18) and Volkswagen Atlas (14.05). 
As-tested volume behind the second row (24.05 cubic feet) was more competitive, if middling overall. Our results put the Pathfinder on par with the Highlander (24.02), and ahead of the CX-9 (23.72) and Grand Cherokee L (22.04), but it still trails the Atlas (29.88) and Palisade (26.23) by wide margins. Stack up all the cargo areas we've tested among mid-size, three-row SUVs.
More From Cars.com:
Drivetrain: Nein, Nine-Speed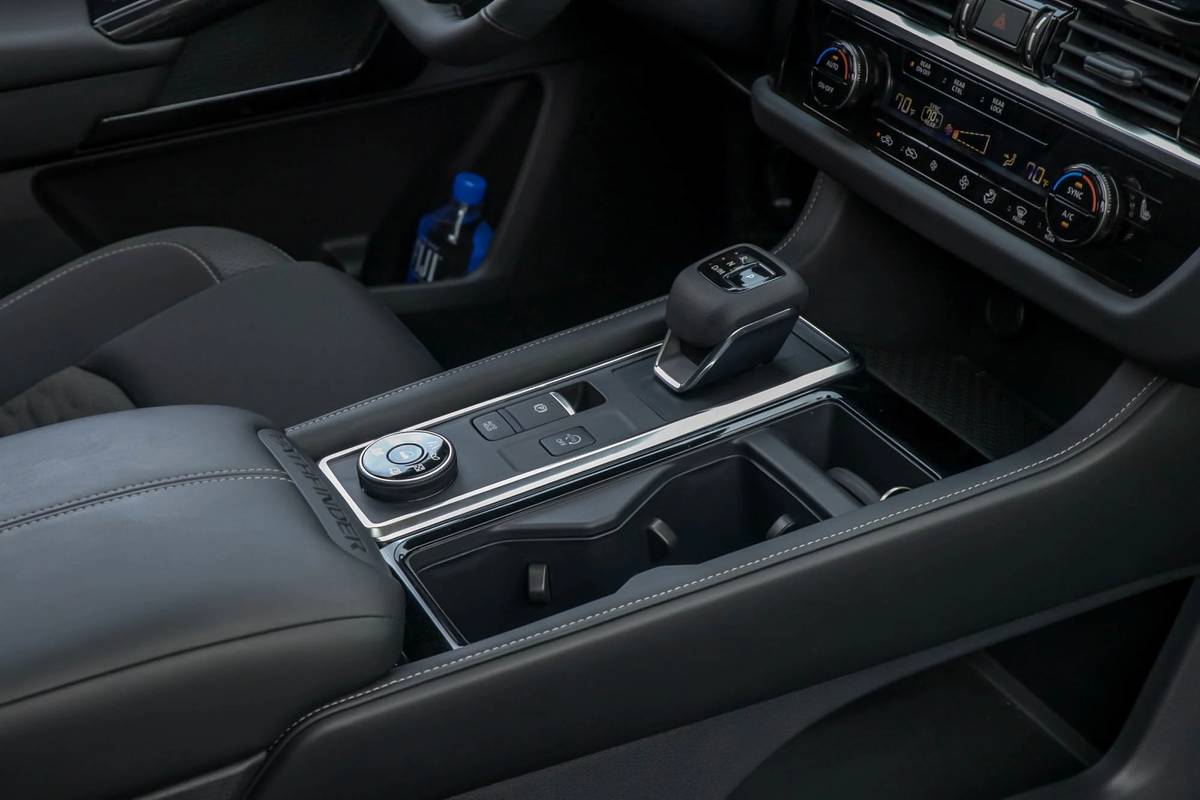 2022 Nissan Pathfinder | Cars.com photo by Leslie Cunningham
The Pathfinder's nine-speed automatic transmission comes from ZF Friedrichshafen, a German automotive supplier, of whose front-drive-based nine-speeds we're none too fond. It pairs here with Nissan's 3.5-liter V-6, good for 284 horsepower and 259 pounds-feet of torque. I found the nine-speed quick to kick down single gears if you need more power, but it upshifts soon on moderate starts, sometimes marooning the engine during low-speed acceleration at awkwardly low rpm and the bottom of a new gear. The powertrain has enough low-end torque to work its way out of such situations without leaving drivers flat-footed.
Normile called the nine-speed an improvement over the outgoing Pathfinder's continuously variable automatic, and Newman registered no complaint overall with transmission behavior. Bragman's review logged some gear hunting, however, and Wiesenfelder noted outright lag.
"Once I noticed troubling lag waiting for the new nine-speed transmission to downshift for passing power, I started paying closer attention to it," he said, "and I thought I noticed a little low-speed clunkiness as well, which we know all too well from our experience with this component from ZF. On the upside, I don't think the average driver would notice much of this, and historically the transmission has done much better with torquier V-6 engines than with four-bangers — including vehicles heavier than this, such as later examples of the Chrysler Pacifica."
Related Video:
Cars.com's Editorial department is your source for automotive news and reviews. In line with Cars.com's long-standing ethics policy, editors and reviewers don't accept gifts or free trips from automakers. The Editorial department is independent of Cars.com's advertising, sales and sponsored content departments.