The 2022 Acura MDX Exceeded My Expectations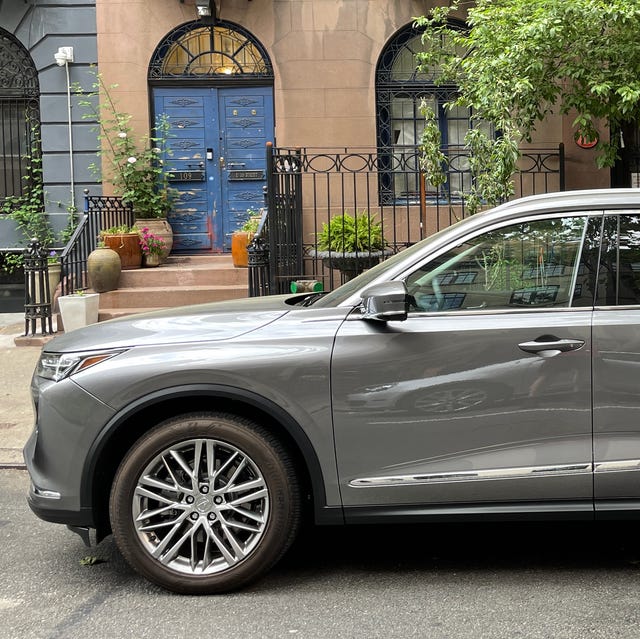 Will Sabel Courtney
Full disclosure: when the 2022 Acura MDX rolled up to my door, I'd honestly forgotten that it was an all-new vehicle for the 2022 model year. After all, the automotive world is constantly hurling new and updated crossovers in front of us; I remembered that the 2022 MDX had a carryover powertrain from the 2020 version, so in my mind, I'd taken one quick pass over the press release and assumed Acura was using "all new" in the fast-and-loose way some carmakers do for updates that amount to little more than a mid-life refresh.
After a long day of driving this Acura, however…well, let's just say there was no mistaking it for the previous one. As it turns out, Acura's new MDX is one damn impressive luxury SUV — and very much worthy of paying attention to.
Advertisement – Continue Reading Below
The 2022 MDX is surprisingly fun to drive
Much like the also-new TLX and other Acuras before, all-wheel-drive versions of the MDX boast Acura's torque-vectoring, wonderfully named Super Handling All-Wheel-Drive system, which generally biases power delivery in favor of the rear axle but can shuffle it around as needed to maximize grip – and, more entertainingly, push even this hearty crossover through turns with the sort of vivacity that'll coax a smile from a driver's mouth.
The 290-horsepower V6 beneath the hood isn't quite as entertaining; it's a carryover from the previous model, and one of the few naturally aspirated base engines left in this category. (A turbocharged V6 Type S model arrives later this year, making 355 ponies.) Still, the 10-speed automatic does a solid job of keeping the engine in the powerband when you want to push it — more so if you grab the ginormous drive mode selector in the center of the dash and twist it in a more sporting direction.
This Acura has a killer sound system
There are plenty of high-end sound systems in luxury cars today, with ever-escalating speaker counts and ever-more-powerful systems becoming yet another weapon in the high-end vehicle arms race. As I mentioned in the review of the TLX, however, Acura's ELS system — especially the top-shelf 16-speaker ELS 3D version of my tester – manages to distinguish itself even from that competitive pack through exquisite tuning and design, creating an audio experience that's all but unrivaled in the industry. Put it this way: it's the sort of system that had me seriously considering adding a lossless audio streaming service to my iPhone.
The interior is every bit worthy of a luxury car
My tester was a top-of-the-line example with the Advance Package, a setup that adds a brow-elevating $14,250 to the MDX's $48,245 starting price. Still, after having sampled the MDX Advance for a few hundred miles, I think I'd do my damndest to stretch my budget to its $62,495 window sticker if I were shopping for a midsize luxury crossover. In addition to the top-level 16-speaker ELS 3D stereo, the Advance brings with it some of the softest leather I've seen in a car under $100,000, surround view cameras for easier parking, excellent ventilated seats, LED interior lighting, parking sonar and plenty of other features designed to make life a little easier. And while standard black leather may be timeless, I highly recommend opting for the Espresso brown cowhide found on my test car.
The new MDX is a looker
Granted, so was the one that came before; Acura MDXs have generally always been solidly attractive SUVs with looks that fit their particular eras well. Still, while this new one may not be the most elegant expression of Acura's current design language — as Porsche knows, what looks good on a sedan or sports car's front end doesn't always translate well to an SUV's face — it's a dynamic, muscular presence. with creased, strong haunches and Coke-bottle-esque flanks. When people see those Superman shield grille and Clint Eastwood-squint LED headlights in their rearview, they're liable to move over — and that's what a bold-looking car should be able to do.
It's an Acura, so it should last for years
Hondas and Acuras have long ranked among the most reliable cars on the road, and that's true of the MDX, as well. (A close friend of mine has a 2003 MDX that his father bought new; it's still going strong today with more than 250,000 miles on the clock.) A sizeable chunk of buyers will likely choose to lease the MDX, of course, but those that opt to buy it and hang onto it should be able to do so knowing it has better-than-average odds of running well for a long, long time to come.
Base Price: $48,245
Powertrain: 3.5-liter V6; 10-speed automatic; front- or all-wheel-drive
Horsepower: 290
Torque: 267 lb-ft
Fuel Economy: 19 mpg city, 25/26 mpg highway (FWD / AWD)
Seats: Five nicely, seven in a pinch
The 16 Best Cars to Buy in 2021
This content is created and maintained by a third party, and imported onto this page to help users provide their email addresses. You may be able to find more information about this and similar content at piano.io
Advertisement – Continue Reading Below